Our goal
We offer more than sentiment analysis.
Sentimenti extends beyond the well-known valence measuring.
Analyze emotions in any text in Polish. More languages will be available soon.
Sentimenti is the result of cooperation between linguistic engineering and artificial intelligence specialists that uses deep learning. Solutions implemented in our algorithms are based on the results of scientific research involving over 20.000 Poles.
The syntactic-semantic analysis allows to distinguish language units and establish emotive meanings of not only the words used in any publication but also of phrases and the entire text.
The emotional analysis includes 8 basic emotions and valence defined on two scales (polarization and stimulation) and can be applied to all words and meanings in Polish.
The results of our analyzes, presented as a report, give you the way to decide which emotions are shown in the text, advertising, speech or can be associated with the author of the text.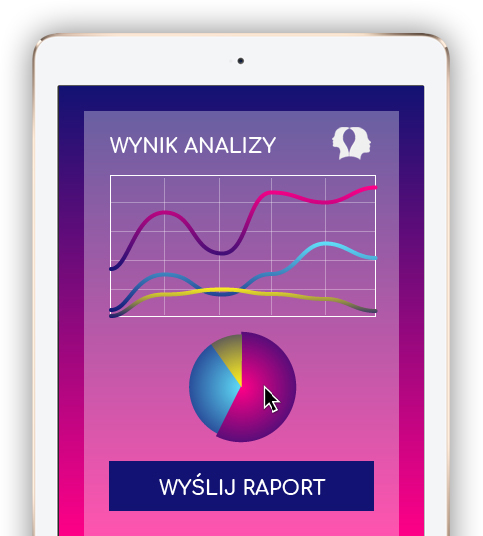 Applications
a few examples of applications we are working on. And there are many more …
Monitoring of emotions in media content

Do you create content? Do you monitor the way your company or brand is commented online by others? Would you like to know what emotions they feel mentioning you? Use Sentimenti solutions.

In advertising, storytelling is controlling the emotions of the recipient. Sentimenti will analyze those expressed by authors and felt by readers of any text. Thanks to that, you will be able to measure and plan the feelings you provide with your stories.

Media monitoring, analysis of content published on the Internet, means tracking the mentions about people or brands. Some media monitoring websites inform you whether a remark expresses negative, neutral or positive sentiment. We give you a solution for understanding different emotions, not only their valence. In our blog, we describe how the analysis of valence and 8 basic emotions in Sentimenti is done. It differs from everything that is available at the moment.

Solutions for mental health

The ability to manage your emotions is more important than cognitive skills like speaking or counting. Your health depends on your well-being, and a healthy mind – on emotions. Do you work with people? Are you responsible for their development? Are you human resources specialist, mentor, trainer or coach? Psychotherapist, psychiatrist or physician? Sentimenti supports the creation of tools for diagnosis and monitoring of the effects of treatment, especially in dealing with mental disorders where communicating emotions is crucial.

Artificial Intelligence full of emotions

Artificial intelligence that understands emotions will make decisions similar to us, people. Dialogue systems, chats, chatbots that can assist your customers are already gaining popularity. Bots and robots are among us. They replace workers at the production line and officials behind the desk but also sellers behind the counter. They help us organize conferences, arrange meetings, book hotels, and trips, aid us by contacting clients and settling transactions. What emotions do they express? How are their messages received? Find out with SentiTool.

Bots sell products and services, tweet, post and shape opinions, and even affect voters. Do you create robots and bots? Do you want them to recognize human emotions? Artificial intelligence ceases to be artificial because it starts to feel. Emotional robots, more similar to us, will become a part of our society and life.
Our Team
Sentimenti project is the effect of cooperation between four professional teams:
psychologists, linguists, IT specialists and management specialists.